Exhibition Overview
From September 9 to 11, 2020, China International Optoelectronic Expo (CIOE) was successfully held in Shenzhen, China. As one of the largest and most comprehensive exhibition of optoelectronic industry in the world, it covers optical information communication, laser, infrared, precision optics, optoelectronic innovation and other optoelectronic industry chain plates. The exhibition area of this Expo is about 160000 square meters, gathering more than 85000 visitors and more than 3000 high-quality exhibitors. In the face of COVID-19, the great adverse growth makes the world focus on Shenzhen again. As a domestic professional optical transmission equipment manufacturer and optical transmission solution provider, Sintai Communication brings its core and innovative products to show to the world.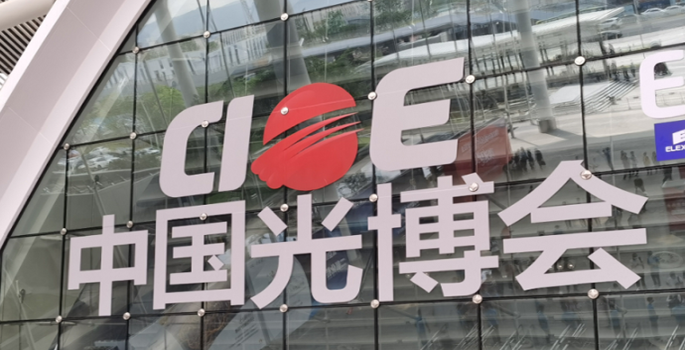 Exhibited products and Solutions
During this exhibition, the products displayed by Sintai company include 5G fronthaul transmission semi-active WDM products, 1U / 2U / 5U WDM system, 200G / 100G / 25G / 10G wavelength division equipment, plug-in card type and rack-mount passive wavelength division (AWG) 40 / 48), optical splitter, optical amplification equipment (EDFA, OEO, SOA, etc.), optical protection equipment (OLP, OBP), 1U integrated wavelength division equipment (maximum support 48*10G capacity transparent transmission or 12*100G capacity transparent transmission), and optical module series. The solutions presented include: 5G fronthaul network semi-active WDM integrated solution, DCI data center cloud interconnection solution, metropolitan WDM interconnection solution, OTN Metro transmission network, etc. Among them, the newly launched 100G integrated wavelength division equipment, 200G DWDM transmission equipment, and 5G fronthaul transmission semi-active WDM solutions have attracted the attention of many industry customers and are widely praised.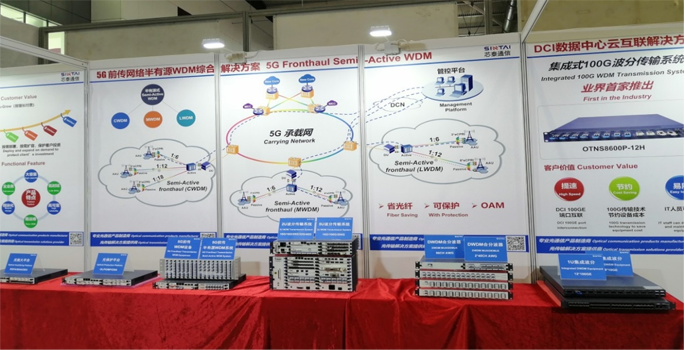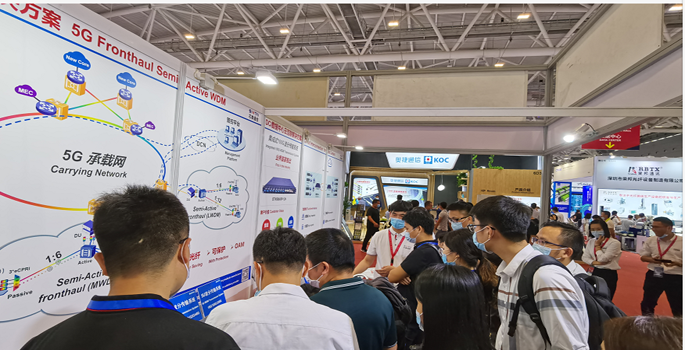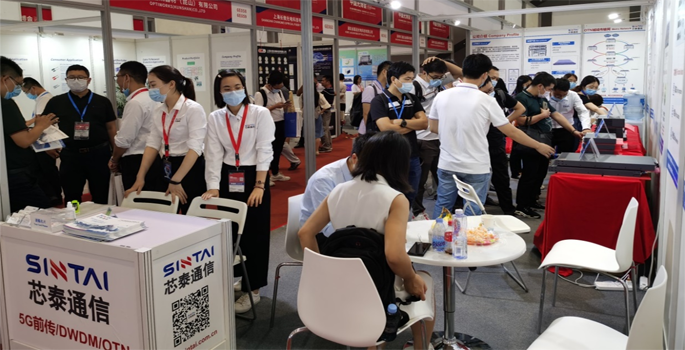 Sintai to the future
We do appreciate the new and old customers in the industry for their support and attention! Based on the core values of "innovation, pragmatism, openness and enterprising, customer value first", our company has always focused on providing optical fiber transmission network solutions for domestic and international telecom operators and industry private network customers, helping customers improve network operation efficiency, reduce operating costs, realize network security and achieve win-win cooperation mode
After years of development, Sintai communication has made good performance in optical fiber access network and optical transmission network, and has become an innovative high-tech enterprise of optical communication. Especially with the emerging development of 5G new infrastructure and the increasing demand for bandwidth and speed in the Internet communication industry, 200G, 100G wavelength division transmission solutions and 5G semi-active solutions will be widely used.
Let's join hands together to create the future of optical communication。