With the development of network security technology, there are multiple sets of security systems on many key optical network links that require the traffic of the link; the mirroring and copying of optical fiber data links in the industry basically use splitting methods. To solve the problem, ensure that the traffic is collected reasonably without affecting the transmission of the original link, and for the replicated link after splitting, optical amplifiers can be used to amplify, reshape, and retiming the signal to ensure that the back-end security system provides Multiple high-quality data streams.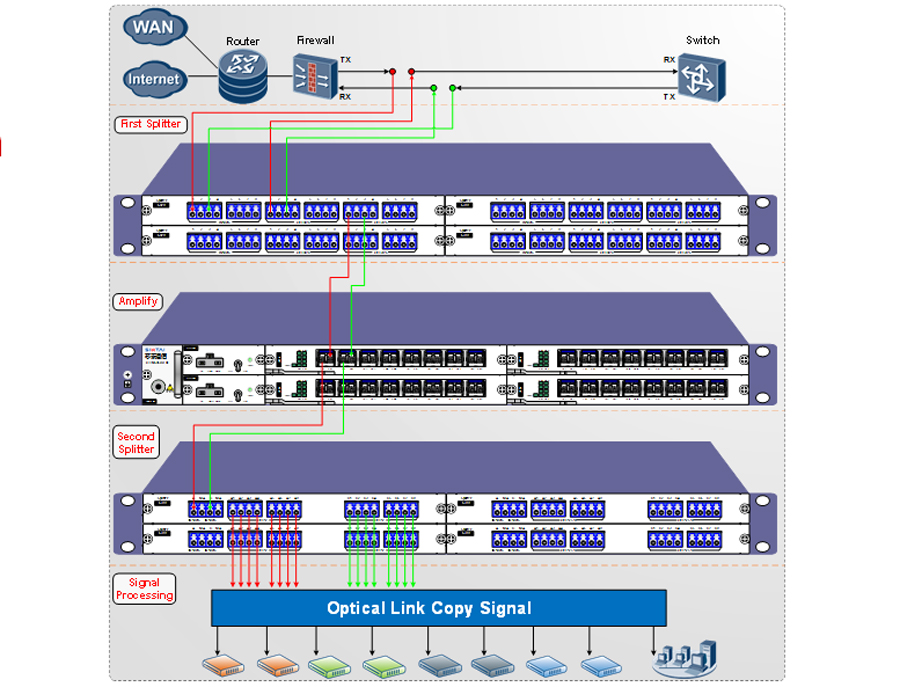 Optical Link Acquisition And Amplification Solution Features
The optical splitting node is purely passive and has no effect on the backbone service signal, effectively ensuring the normal communication of the optical fiber link itself.

While the optical signal is amplified, the distorted optical signal is cleaned and shaped to effectively ensure the quality of the monitored signal.


Supports SDH/SONET services of various rate levels and optical amplification of POS, GE, 10GE, 40GE, 100GE, and other services, adapting to any scenario.


The splitter amplifier platform equipment adopts a modular design to meet different configuration requirements, save cabinet space and has good scalability.