At present, most companies in the financial industry have established data centers to achieve large data concentration. All transactions basically require the cooperation of data center servers to complete. The data center has become an important infrastructure to ensure the normal operation of the information system of the financial industry. How to ensure the continuous and reliable operation of the data center, how to deal with and effectively resolve the risks brought about by data concentration, has become an increasingly important issue for the industry.
Datacenter disaster recovery and backup refer to the establishment of an independent disaster recovery data center in addition to the main data center to ensure that when a sudden disaster causes the main data center to stop working, the disaster recovery data center quickly takes over the original operation in the main data center All or part of the business in order to reduce or avoid losses caused by disasters.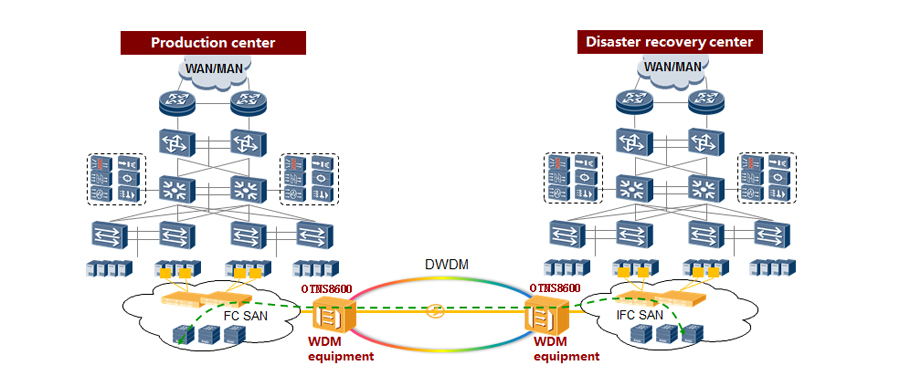 In-city disaster recovery mainly adopts WDM technology to realize real-time data backup and real-time switching of services to ensure business continuity. Real-time backup in the same city can ensure that the data in the main data center and the disaster recovery center are completely consistent, and achieve the highest data protection level. It is especially suitable for core and critical businesses, such as applications that require RPO/RTO to be close to zero.
First of all, WDM has large bandwidth and strong expansion capabilities, which is especially suitable for application scenarios where data storage services have huge bandwidth requirements and subsequent bandwidth expansions are frequent. WDM is a multi-wavelength transmission system with huge transmission bandwidth and flexible expansion. At present, the mainstream WDM system in the industry is 40/80 waves. If each wavelength transmits a 10G bandwidth, then 80 wavelengths can transmit bandwidth of 800G; if each wavelength transmits 40G bandwidth, then 80 wavelengths can transmit bandwidth of 3.2T; if each wavelength transmits 100G Bandwidth, then a single optical fiber will be able to achieve 8T mass transmission bandwidth.
WDM can flexibly increase the number of wavelengths according to the increase in bandwidth requirements. For example, there are currently 80G of stored data to be transmitted from the production center to the backup center, then the WDM system only needs to use 8 wavelengths; if subsequent 40G data needs to be backed up and transmitted, only 4 more wavelengths need to be added to the WDM system OK.
Secondly, as an optical transmission technology, WDM has a very low transmission delay and is extremely suitable for the real-time requirements of disaster recovery systems. The transmission delay of WDM is mainly composed of optical fiber, dispersion compensation fiber, and WDM equipment delay. Among them, the transmission delay of optical fiber is fixed. If you want to further reduce the delay, you can only start with dispersion compensation and WDM equipment. Sintai Communication's 100G coherent technology can achieve DCM-free, and the equipment delay can reach our level.
Third, as a mature technology form, WDM is very complete in terms of network security and reliability. Sintai Communication WDM equipment provides a wealth of network-level protection methods, including channel 1+1 protection, optical line protection, etc., which can fully meet the requirements of high security and high reliability in disaster recovery networks for data storage services.